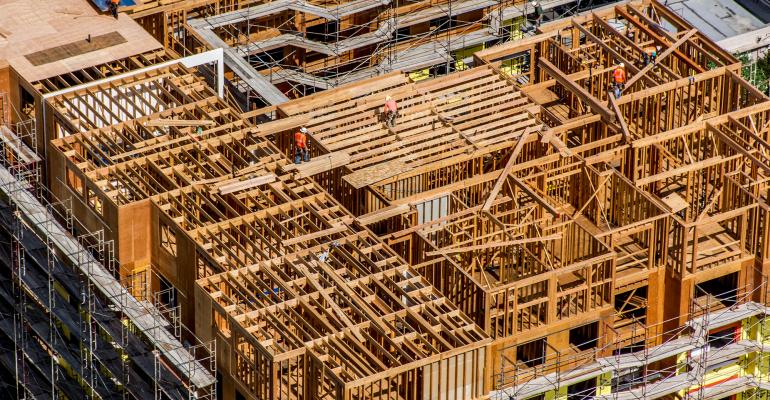 Many of the pressures driving increases in materials and labor prices for multifamily construction have lessened as a result of COVID-19.
Heading into 2020, a 
robust development pipeline
and rising costs of construction material and labor
 were major concerns for the multifamily sector. The economic devastation wrought by the COVID-19 shutdowns has put a halt to that, scrambling the projections of economists, developers and contractors.
Developers aren't exactly finding bargains at the moment, since there's now also downward pressure on rents and potential returns. The net result is that even as more companies re-open for business most 
multifamily developers are still hesitating to start big projects
 or sign big deals to purchase materials. Those big deals that could help establish a new normal for construction prices are largely in a holding pattern, especially now with worrying signs of new spikes in COVID-19 case counts and rising hospitalization levels in many states.
"Generally pre-COVID pricing is still prevalent," says Paula Cino, vice president of construction, development and land use policy for the National Multifamily Housing Council (NHMC). "There is a lot of uncertainty."
On balance, a minority of developers (17 percent) say that prices are rising for materials they need to build apartments, according to an NMHC survey. Prices plunged at the onset of widespread COVID-19 cases in the U.S. and government-imposed measures to contain the spread.  Since then, prices have rebounded. The producer price index for inputs to new multifamily construction increased 0.6 percent in May 2020, compared to April (not seasonally adjusted), though the index was still down 1.8 percent compared to the year before, according to an analysis of Bureau of Labor Statistics data by the Associated General Contractors of America (AGC), based in Arlington, Va.
Despite those numbers, most experts expect materials costs to dip over the next year, as it gradually becomes clear how quickly many of the more than 45 millions of jobs lost in recent months come back and how many renters will be able to pay market rents at new apartment developments.
"Contractors will find less and less work in the next year as current projects finish up and owners face financial difficulties and reduced or uncertain demand," says Kenneth D. Simonson, chief economist for AGC. "Overall project costs for developers are likely to be down, or at least to increase much less than appeared likely at the beginning of the year."
However, not all contractors are so pessimistic. "Currently our backlog is greater than it was at this time last year so the outlook for the future appears positive," says Marc Padgett, president of Summit Contracting Group, based in Jacksonville, Fla.
In addition to domestic issues, disruptions to international supply chains are expected to put upward pressure on materials prices through the summer, says David Logan, director of tax and trade analysis at the National Association of Home Builders.
On the flip side, shortages in supply for some materials caused by the pandemic have caused some prices to rise.
"The lumber market dropped for a couple of weeks right at the beginning of the pandemic but that was quickly offset by price increases," says Padgett.
The producer price index for lumber and plywood rose 1.4 percent in May 2020, compared to April (not seasonally adjusted), though the index was down 1.6 percent compared to the year before, according to the Bureau of Labor Statistics.
The cost of lumber from Canada is still burdened tariffs created by the long dispute between the U.S. and Canada over trade—though those tariffs may ease.
"Tariffs on Canadian lumber are still in place, although the rate is scheduled to be lowered from 20 percent to 8 percent," says NAHB's Logan. "That decrease was scheduled to occur midyear by Commerce, but has been pushed back for COVID-related, administrative reasons."
The pandemic has also caused delays—especially at some of the factories that assemble materials that apartment developers need.
"We have seen some slowdown on deliveries such as appliances, windows, trusses amongst others," says Padgett.
The number of apartment developers who said their projects were affected by a lack of construction materials is less than a third (29 percent) of the respondents to the NMHC survey, up from 24 percent earlier in the crisis.
"Tile and flooring seemed to be a big chokepoint… along with some electronics coming out of Asia," says NMHC's Cino.
At the same time, apartment developers used to have to worry where they would find construction workers, before the crisis. Today just a quarter of developers (25 percent) say their projects are affected by a shortage of labor, down from nearly half (44 percent) earlier in the crisis, according to NMHC.
Also, some of the problems created by the spread of the coronavirus now seem easier for many developers to solve.
Shortages of personal protective equipment, which were the number one cause of delays and disruptions in April (39 percent of respondents at one point), were cited by only 10 percent in the latest survey in June conducted by AGC.
Also, just one-third (38 percent) of respondents say that materials suppliers had delayed or cancelled deliveries, down from nearly half (49 percent) in the previous three surveys.
Source: "Construction Costs Expected to Ease for Apartment Developers"