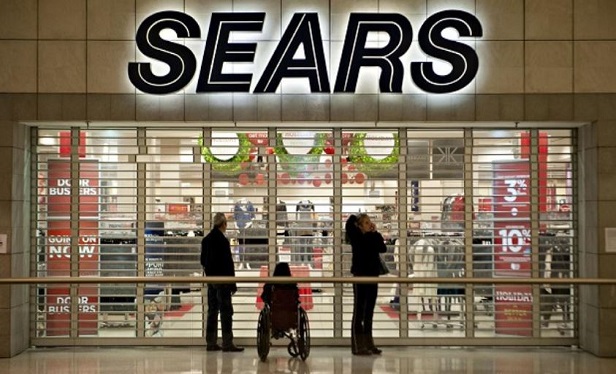 This week it became official: after years of struggling, Sears Holdings filed for Chapter 11 bankruptcy. 
According to the bare bones plans the retailer laid out, it will close 142 stores, leaving it with approximately 580, according to a CBRE Marketflash report, which cited locational data provider AggData.
CBRE writes that mall owners have anticipated Sears' potential closure for several years and have made contingency plans that could mitigate the increased supply of available space.
Still, though, the journey ahead will not be easy for many landlords. "For mall or strip center owners facing the imminent shuttering of a Sears or Kmart, recovery will be a protracted process," according to CBRE.
In addition, the Sears' filing will be one of the most complex retail bankruptcies to date, making its timelines especially hard to predict, CBRE said. The problem with that is those contingency plans that many mall owners put in place in anticipation of Sears' bankruptcy cannot be instituted until the proceedings unfold.
Backfilling Department Stores Takes Time
Another consideration for retail landlords is that backfilling department stores takes an average of 18 to 36 months, depending on location, property, ownership, capital availability, and regional or national economic fundamentals. Stores in major markets and in prime locations will clearly be easier to repurpose than those in secondary and tertiary markets where consumer demand is weaker or has declined in recent years, CBRE said.
The good news is that for many retail owners, the final resolution could be a positive outcome. For many of Sears' leased locations, rent was set at below market rate and the store closures means the landlord can re-tenant with higher-paying retailers that drive more traffic, CBRE said, "Some of these stores might draw in alternative uses that would also drive more traffic to the property and its co-tenants, such as hotels, apartments, restaurants, entertainment and offices."
Silver Linings
More immediately, it should be noted that much of the Sears portfolio has been underperforming for years, posting steady declines in both traffic and sales, thus reducing the impact that such a vacancy may have on the property's NOI. "Most existing retailers in Sears-occupied malls likely will not see a significant negative impact on store traffic or sales following a closure," CBRE writes. "Sears' steady performance declines in many malls means it has long ceased to be a key traffic driver, so closure will have minimal impact on co-tenants' performance."
CBRE adds that while a major mall anchor or department store closure can often trigger kick-out clauses for in-line retailers—the right to early lease termination—this is less likely to happen with Sears' closures. "Many mall owners already have re-negotiated such kick-out clauses as they pertain to Sears store closures, effectively minimizing the domino effect such a vacancy will have on their properties," it says.
By: Erika Murphy (GlobeSt)
Click here to view source article.