"Occupancy costs with us will be cheaper than any traditional lease that they might sign."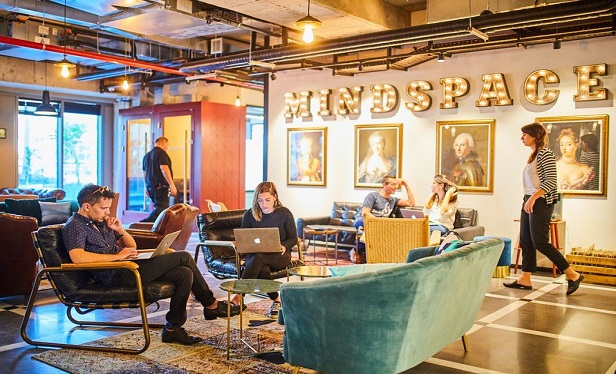 Mindspace is a co-working startup headquartered here that has expanded through Europe and now has its sights set on the US. The company plans to open two co-working locations in the US in the coming months, one in Washington, DC and one in San Francisco. It also has its eye on other US locations, although its vice president of Real Estate Itay Banayan declined to say where they would be.
As it enters the US market Mindspace is bringing its own twist on the co-working model: besides high-end office space it also offers curated classes and events for users. These events can range from morning yoga to meditation to a workshop on ensuring a product/marketing fit. These examples, in fact, were taken from a list of events that Mindspace held this month in its London location. The Hamburg location held similar functions in April: a beer tasting and networking session, a seminar on marketing solutions for startups by Google and another on e-commerce.
All together there are about 30 to 40 events a month at a Mindspace location, Banayan tells GlobeSt.com. Most are about business but some are distinctly personal and even poignant. For Israel's Holocaust Memorial Day, Mindspace had two survivors in their 80s speak to a crowded room in the Tel Aviv location about their experiences. "We connect with people not only on a professional levels but also to cultivate personal experiences too," Banayan says.
Like other co-working providers, Mindspace is gravitating towards enterprise users, a group that has become quite mindful of the benefits of using this type of space in lieu of a long-standing lease. "Occupancy costs with us will be cheaper than any traditional lease that they might sign," Banayan says. There are also the advantages of the flexibility that a co-working space offers, allowing the company to grow and shrink its space needs as necessary, he adds.
The curated events that Mindspace offers is part of the appeal to these companies, which are well aware that a pleasant office environment goes far in keeping employees happy and engaged, Banayan also says. In a way, he says, Mindspace is not only a co-working provider but also serves as a defacto supplement to HR. "Companies see tremendous value by joining us."
Mindspace's first US facility will open in Washington DC this summer followed by San Francisco. In addition, the company is looking at several other markets in the US. "We started the site selection process over a year ago, using our criteria of what we think would be a good city for us."
By: Erika Morphy (GlobeSt)
Click here to view source article.