Industry investments ran the gamut from established manufacturers to newer market entrants as well as both traditional and emerging tech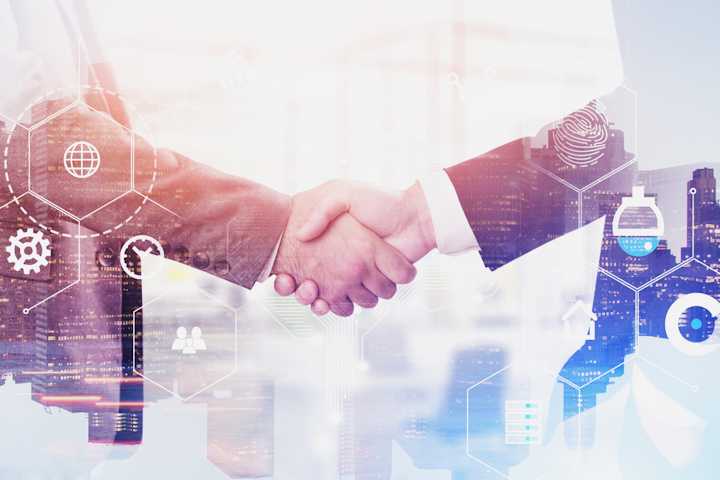 Over $2.9 billion was invested in firms providing physical security solutions for residential, commercial and industrial facilities in 2019. The data from our new report, "
M&A and Investments in Smart Buildings H2-2019
," reveals the extent of global investment in the physical security sector since 2017.
This article updates and extends our previous article from August 2019, "
High Levels of Physical Security VC Investment Continue into 2019 with $355M Raised So Far
." Whereas the first article focused on commercial and industrial buildings, this report also includes security solutions aimed at the residential market, including multi-occupancy apartment buildings and smart homes.
One transaction in 2019, the post-IPO equity for Motorola Solutions by private equity firm Silver Lake Partners, accounted for $1 billion. Even discounting that single transaction, physical security technology still ranked as the highest funded category last year within smart buildings.
An analysis of the high value deals reveals a consistently higher level of funding provided in the Chinese market for smart home, smart building and physical security solutions, such as AI-driven face recognition. For example, Megvii, the Chinese developer of Face++ face recognition software, closed a Series D financing round in May 2019 amounting to $750 million.
New entrants addressing alternative ways to control access to buildings are using a range of technologies including AI, electronic locking, sensors and biometric authentication. Companies receiving funding in 2019 include Alcatraz AI, B-Secur, Comydo, Glue, HAVENLock, Igloohome, Latch, Level Home, Nexkey, Open App and Proxy.
Level Home, the provider of the Level Lock, which transforms an existing lock into a smart lock, allows consumers to preserve the design of their homes, emerged from stealth in October 2019. The company announced a $71 million corporate round of funding with strategic investors, Walmart and Lennar Homes.
In August 2019, Latch, a smart lock maker targeting the apartment buildings market, completed a $126 million financing to accelerate its growth in the new construction and retrofit markets. The round was closed led by growth equity firm Avenir alongside existing Series B investors including Brookfield Ventures, Lux Capital, RRE, RxR Realty, Tishman Speyer, Third Prime, Camber Creek, and Primary Venture Partners.
Emergency response and mass notification solutions for public buildings, workplaces, stadiums, schools and other venues have also attracted investors in 2019. Startups receiving funding in 2019 included AlertMedia, RapidSOS and Volan Technology.
In October 2019, RapidSOS, a New York-based emergency technology company, announced the closing of a $55M funding round. The latest investment was led by Energy Impact Partners (EIP), the largest energy technology investment firm backed by a coalition of leading global utilities. The round, which adds $25M to an initial close of $30M, accelerates RapidSOS's work partnering with thousands of public safety agencies, most major public safety software providers, and connected device companies to transform emergency response and disaster management with data-driven solutions through life-saving building data and connected equipment.
AI video analytics will be a main game changer for security over the next 10 years, according to the recent Memoori report, "
The Physical Security Business 2019 to 2024
," and many new entrants are receiving funding as AI technology applied to video surveillance has convinced the market that it will become mainstream. New entrants in this space who closed investments in 2019 include Actuate, Boulder AI, Calipsa, Athena Security, Umbo Computer Vision, Viisights, and Vintra.
Evolv Technology, a Boston area start-up founded in 2013, has developed weapons-screening systems to detect anyone attempting to carry a weapon or other threat into venues without slowing the flow of visitors or employees. By fusing the latest sensors and Cortex AI, Evolv delivers weapons detection smart enough to screen thousands of people without the need to stop and empty pockets or remove bags. Their $24 million preferred stock financing closed in October 2019 with investment partners including Bill Gates.
The gunshot detection industry is still in its infancy with just a handful of solutions. One company is Active Guardian, who has attracted $2 million seed funding from Stanley Ventures, the VC unit of Stanley Black & Decker, in December 2019. The startup has developed a plug-and-play gunshot detection technology device intended to allow critical information to be sent to first responders during an active shooter situation.
Technology advancements are changing the security landscape for buildings and incumbent players will need to work with startups through strategic alliances, M&A and investment to maximize their effectiveness in protecting the occupants of smart buildings.
Our latest report covers investments focused on the operations and management stage of the building lifecycle across 7 segments – Building Automation, PropTech, Building Energy Management, Physical Security and Life Safety, Building-to-Grid, Building Fabric and Smart Home. Our analysis reveals which startups are being funded or acquired as well as which established players are attracting growth equity or acquiring technology to augment their portfolios. For more information about the report, click
here
.
By: Daphne Tomlinson (SIW)
Click
here
to view source article