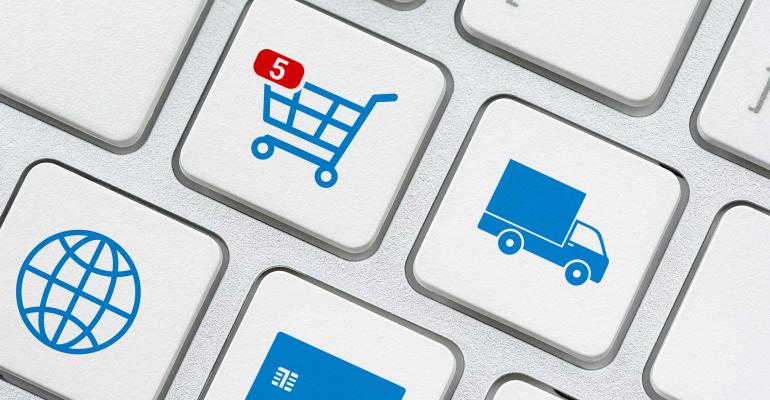 On Wednesday, panelist discussions centered on the best ways for retailers and landlords to integrate e-commerce into their operations.
While the
 first day
 of ICSC's virtual conference focused on how retail tenants and landlords can survive through the pandemic, the second day focused on growth strategies—specifically, how to successfully integrate e-commerce into retail and mall operations. A main focus of discussions was that retail landlords and tenants need to work together in order to provide the best customer experience in a world where they are competing with online players.
Here are some takeaways from day two of the conference.
Going forward, retailers and landlords will have to make significant changes to deliver on customer experience. These shifts will require the integration of digital and omni-channel strategies, the role of the physical store, and logistics and fulfillment facilities, said Elizabeth Silliman, associate partner at consulting firm McKinsey & Co.
From March to May, there was a 15 percentage point increase in e-commerce penetration, said Kelly Ungerman, senior partner at McKinsey & Co. Though this is beginning to flatten out because stores are reopening, this trend is being sustained and represents "a consumer adoption of digital that is here to stay."
Traditional retailers such as Kroger, Bed Bath & Beyond and Whole Foods are accelerating investments in dark stores—those dedicated just to processing delivery orders—to fulfill this rise in e-commerce demand. Silliman said retailers should think about this model and whether it fits with their operations.
COVID-19 has increased interest in same-day delivery at a rate that matches the past four years combined, said Silliman. While many companies already offer some form of same-day delivery, the majority of U.S. retailers are starting to catch up on this trend and are accelerating the scope of this offering to meet consumer demand.
Retailers that do this well have three things in common: the right integrated architecture to enable it, the right location and strong third-party logistics, said Silliman.
In fact, the rapid growth of the buy online and pick up in store (BOPIS) and curbside pick-up options are testaments to how digital can drive consumers to physical stores, according to Silliman, and that is here to stay. She adds that consumers who participate in BOPIS and curb-side pickup are more loyal to that particular brand, "often two to three times more valuable to a retailer over their lifetime."
Engagement with technology drives the amount of time a consumer spends in a physical store, said Silliman, as well as greater online traffic. Historically, the main barrier to retailers adapting new technology have been costs, but Silliman said there are a number of technology solutions that can reduce costs. These include smart shelfs or technology in-store that guide a customer experience.
Delivering exceptional customer experience requires retailers and landlords to work in partnership. "It is imperative, it is no longer just nice to have," said Aditya Sanghvi, senior partner at McKinsey.
One way retailers and operators can do this is by creating a "search the mall" website to allow customers to shop all of the mall's shop on a website, driving both customer traffic and sales, said Sanghvi. This would require "retailers and landlords to come together in both integrating a digital interface for the customer, as well as thinking about inventory."
Landlords should integrate digital marketplaces for their centers for three reasons, said Whitney Livingston, chief operating officer at Centennial Real Estate. It will help build shopper loyalty, differentiates properties from their competition for tenants deciding where to sign a lease and provides meaningful information and insight for the landlords.
Jesse Michael, head of sales and enterprise partnerships at Adeptmind, an AI company, showed a walkthrough of what this type of marketplace looks like. The site combines all the center's retail offerings under one online marketplace, making it easier for a customer to shop the mall's offerings online. In addition to discretionary goods retailers, this service extends to dining and services, allowing customers to order food for delivery or set up a time at the beauty salon, all on one website.
It's important to offer guests different ways to enjoy the mall's restaurants, said Suk Singh, president of Ausie Grill, including dining inside, pick-up, drive-through and delivery. He adds that restaurants prefer in-line, end cap and freestanding locations, as opposed to locations inside malls.
Ghost kitchens can be here to stay in areas where companies want to build certain flagship stores and support them with ghost kitchens, as opposed to having physical restaurants all over the place, said Tabassum Zalotrawala, chief development officer at Chipotle Mexican Grill.
There are about four core datasets retailers and landlords should pay attention to, said Lyden Foust, CEO and co-founder of Spatial.ai. These are demographics, point of interest data (which looks at the other businesses around a specific store location), mobile location data and social media data. Companies that stand out will use at least two or more of these data sets, said Foust. This data needs to be accessible quickly to provide the most value, said Noam Ben-Zvi, CEO and co-founder of Placer.ai.
These type of data can allow landlords to understand what types of retail tenants they should be looking for. Foust says AI can track social media to determine what people are currently interested in. For example, on the Spatial.ai platform, things such as dog care have been trending up, while things like live music have been trending down. This would allow landlords to better understand the human behavioral changes occurring around them, and to update their center's offerings to better reflect them.
However, using this data is generally more useful for shorter term leases, and not for longer term leases such as 10 years, however, according to Ben-Zvi.
WeWork CEO Sandeep Mathrani, who after the last downturn helped turn around regional mall REIT GGP, also spoke about the outlook for office space at the event. He noted that in the current environment, short-term office leases are much more in demand than long-term ones, and as a result, the co-working model can be at an advantage.
He predicted that in the future, many companies will likely adopt a four-day work week, but there will still be more days when employees come into the office.
Source: "18 Takeaways from Day Two of the ICSC Retail in the Age of COVID-19 Conference"