Hospital services are good drivers to bring customers to brick-and-mortar shopping centers says a RealShare Net Lease Conference panel.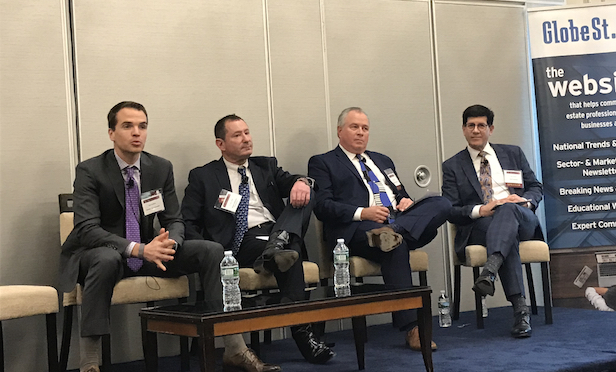 "No business is internet-proof" said Stan Glantz, VP, Development & Construction at Katz Properties, LLC. However, the panel agreed that certain sectors including medical, industrial, entertainment and education require a brick-and-mortar presence to provide services.
Some companies are making a point to build mixed-use developments, so these types of businesses can bring new customers to other tenants' businesses. Speakers in the session "'Internet-Proof' Net Lease Sectors: Industrial, Healthcare, Casual Dining & More" at the RealShare Net Lease Conference in New York City on April 4-5 explained ways disruption is changing businesses.
H. Guy Leibler, president of Simone Healthcare Development, said 30 or even 10 years ago, no one would think of adding hospital healthcare services to a shopping mall. But today, one of his clients, a regional hospital system is looking to take over an 80,000 square-foot Macy's to build an ambulatory center in a shopping center and the mall owner is thrilled.
It will bring different people to shop at the Target, eat at the restaurants, get coffee and shop at the other stores, said Leibler. He added dentists, orthodontists and other medical specialists will bring in a new crop of people than who might otherwise come to shop.
Plus, people tend to go to medical appointments with a parent, a child or a friend. While the patient is having a procedure, instead of sitting in the waiting room, the companion can have lunch, coffee, a drink or make a few purchases at nearby stores.
Leibler said a major disruption in healthcare is the waning of the smaller practices of one to 10 physicians. Even working in medical practices of 15 to 20 is becoming more rare as now medical professionals are joining groups of 50 to 300, all referring patients to doctors within the same system in the same building.
Three years ago, Simone finished a bedless, ambulatory hospital for the Montefiore Health System, building a 200,000 square-foot facility, with 16 operating suites, a full radiology center, and doctors' offices but without capacity for overnight stays. This is an important aspect of the healthcare system of Montefiore Medical Center, one of the largest employers in the state of New York, said Leibler.
Similarly, Simone finished developing a facility for the Mount Sinai Health System, bringing all of their medical practices in Long Island into one building. "It's more efficient for the system to operate but it's also better for the patients. They can see all of their physicians at one time," said Leibler.
Simone also has net leases with CVS, the second largest retail pharmacy in the US. So, from Leibler's perspective health services, although not bullet-proof, are going strong for CRE. However, he predicts small groups of doctors and the "fly by night" independent urgent care facilities and aesthetics centers will get pushed out or legislated out because the industry is rapidly changing.
"Growing up it was a gas station on every corner, then a bank, then an urgent care center. When you see that happening, you know you are at the top of the market because not every one of these urgent care centers is going to make it," said Leibler. He added that he does not work with out-of-system healthcare because he is very credit aware and believes the next disruption will take these players out of the marketplace.
The RealShare Net Lease Conference capital markets panelist Kyle Gore said for investors looking at small balance retail, stores such as Dollar General and AutoZone would be vulnerable to an economic slowdown or recession.
Panelist Gene Colley, president of Royal Seal Companies, did not shy away from Family Dollar or Dollar General stores. He noted at least 30% of their market walks to these stores, implying a measurable need exists. But he asked whether local economies would sustain all the stores in operation advising investors to watch the stores which are potential investments.
Glantz pointed out that more than 90% of all retail sales occur at brick-and-mortar locations. The US Census Bureau reports e-commerce sales in 2017 accounted for 8.9% of total sales.
"With all the hype from the media about retail dying and retail changed by the internet, yes, it's being changed. We all buy things on the internet but ultimately we want to see it, touch it, feel it, experience it and that's being done in shopping centers," said Glantz. "So, if retail dies we're all in trouble because 66% of our US GDP is in personal consumption. So let's not stop buying. Let's keep the economy going."
By: Betsy Kim (GlobeSt)
Click here to view source article.