On Friday, the University of New Mexico released its long-awaited request for proposals for the Innovate ABQ site.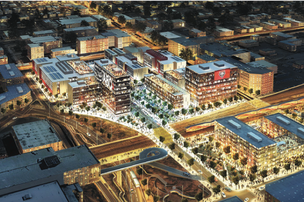 The RFP is looking for a developer to work within the framework that the UNM regents approved last month. The school is looking to forge a long-term public-private partnership with a developer that offers a variety of services, from real estate development to marketing and financing. The developer is expected to construct the laboratory, incubation, living and retail spaces envisioned at the site.
In the RFP, the school asks that the developer would spend 90 days to determine the first steps of the development, which include finding an anchor tenant. The deadline for submissions is June 1, and UNM's target date to notify the selected firm would be June 30.
The school will be holding a presubmittal conference on May 5 for companies that are interested.
The school released a preliminary request for information in January. In March, the regents approved the framework for the site, which was designed by Perkins + Will. That approval meant UNM has an official plan for the seven-acre site Downtown after nearly two years of working on the project. Still, it will be 10 to 20 years before it's finished, the school said.
The RFP doesn't say when construction is expected to start.
By: Dan Mayfield (Albuquerque Business First)
Click here to view source article.